Dr. William Beaumont
Hometown Conneticut Yankee Linked to the Fur Trade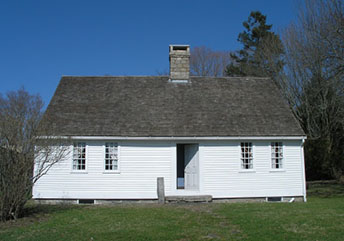 Beaumont's boyhood home in Lebanon, CT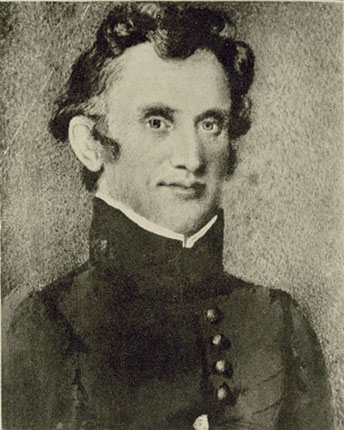 Dr. William Beaumont
I am submitting this article as my Hiveranno requirement paper for your reading pleasure. I have been kicking around this idea for some time now. It is somewhat different in subject matter than the norm, but it shows just how there were many different people involved in the fur trade from all over. Research showed me how you can stumble on things from your own backyard that you may have never realized.
This starts out back in my hometown of Lebanon, Connecticut. It first began to be settled in 1695. This is a rural town in the eastern part of the state with a rich historical background. Growing up I was fortunate to get a firsthand look and education of its history from my father. He did remodeling of many of the historical homes around town and had a pretty good knowledge of some of the local history. Lebanon had quite a part in the American Revolution and a number of patriots to the cause. The first Governor lived there and had meetings with General Washington and other officials in a small building that is known as the war office. The Governors' son Jonathan Trumbull Jr. was an artist who did many famous paintings. One is the signing of the Declaration of Independence, which is hanging at the capitol building in Washington DC. A signer of the Declaration of Independence, William Williams, made home in Lebanon. There are many other tales of locals as well, with the likes of Native Americans like Uncas of the Mohegan's, sea captains, war veterans of every engagement, villagers and ghosts. This tale is of a Dr. William Beaumont.
Dr. Beaumont's claim to fame, from what I had learned at the time, was that he was a physician in the army during the war of 1812. During this time he was the first to do studies of the stomach on a person with a bullet wound to the stomach. Now for the rest of his story.
William was born November 21, 1785, in a section of Lebanon known as Village Hill on his father's farm. This home was purchased by the historical society then moved and restored and is now a museum located on the towns common or green. Not much is known about his boyhood life growing up on the farm in Lebanon. What is known is that in the winter of 1806 he left the farm and headed north on his own, with $100 dollars. He ended up in the village of Champlain, New York which is located near the Canadian frontier. Here there was a need for school teachers so with the education he gained in Lebanon, which was known for its teaching at the time, he applied and became a teacher. It is during this period that letters from Beaumont start to show up. In these letters he also mentions that when school is out he worked in a store too.
His letters to his parents and brother back in Connecticut are interesting. He tells how he was fairing and how he liked Champlain, which is very descriptive. But what stand out in all his writings home were the reports of the buildup of British forces in the north (Canada). He wrote with details of how the people were nervous. He wrote that "the rumor of war is very alarming" and "The British forces at the North appear to be actually preparing for engagement". This was in a letter he wrote in 1807. You see in other letters the mention of how the tensions were building up along with America's forces and the building of gunboats in nearby Vermont.
During the next few years he took to studying medicine. William started off doing so by borrowing books from a visiting physician from Vermont. After about three years he then moved across Lake Champlain to St. Albans Vermont where he had applied for an apprenticeship and was accepted by a Dr. Chandler. Apprenticeships of the day meant that you lived under the same roof as the master you were learning from. One also had to pay his instructor, office work as well as household chores. Beaumont kept a small well written detailed journal of his experiences as a fledgling country physician.
June 1812 brought on the declaration of war with England. In September of that year William completed his apprenticeship and received his right to practice medicine. Being that it seems he was very patriotic and no doubt needed money, he joined the army as a surgeon. So back to the New York side of Lake Champlain again. This time in Plattsburgh, N.Y. with the Sixth Regiment Infantry. By December he was suspended duty due to the fact that the sixth was not seeing any action. By March of 1813 he had his orders and marched with the rest of the troops some 180 miles to Sacketts harbor on Lake Ontario. This village was quite a place; it was the US Naval headquarters for the Great Lakes as well as a naval shipyard with some 3000 employees. Beaumont gives us a great deal of descriptions of the navy and the ships on the lake and what was going on around the area.
For the next two years William's duty as a surgeon kept him very busy. He travelled by ship with his regiment along the coast of Lake Ontario which seen many engagements with the British. His journal paints us a brutal picture of these campaigns as well as the conditions the men faced in their marches. He was tending to all sorts of wounds, fractures, and of course the amputation of limbs along with cases of typhus and dysentery. Yet you could see he was a religious man and always took time to think about the simple things in life. He took leave of the army after the war and set off to practice medicine in Plattsburgh, N.Y. For a time he entered a partnership with another doctor in which they had a store as well. There is an advertisement that listed all types of goods from all over, including several types liquor. Ever heard of New England Rum?
After a few years of this, the good doctor must have been discontented with civilian life. When a fellow army doctor, now the surgeon general, said that there was a reorganization of the medical corps, he reenlisted his service. He must have found that active duty was an more attractive lifestyle. So with one last trip back to Connecticut, it was then off to his new post Fort Mackinac on the island by that name. The island is not only home to the military post, but the village there was the hub of the fur trade to the Great Lakes region. It was the headquarters of the American Fur Company Northern Department headed by Ramsey Crooks. Beaumont spent about a year here before he took leave to travel again, this time back to Plattsburg to wed his sweetheart. He then returned to Fort Mackinac with his bride to set up residence and was granted permission to open a private practice for the inhabitants of the village, which was in need of a physician as well.
June of 1822 was not any different than any other June in years past on the island. For this is the time of year that the thousands of American Fur Company employee's, voyageur's, and Indians came in from all points to trade their winter earnings of furs at the company store. The scene that is described here is one that is all so familiar with that of every other fur trade gathering. The beaches were lined with canoes, camps of voyageurs, and wigwams of various Indians from the region. This motley crowd sang, danced, played games, drank and of course fought day and night. With all the excitement to be had, the soldiers were not to be left out. This kept the Doctor very busy seeing to all types of injuries and sickness. But it was the 6th of June that was about to change the life of Dr. Beaumont, his patient, and medical history.
From what we know, the store was very crowded and bustled with activity. When a gun was accidentally fired, a young company voyageur, by the name of Alexis St. Martin, dropped to the floor. The following account from Gurdon S. Hubbard is the only eyewitness description of the incident.
"This St. Martin was at the time one of the American Fur Company's engages, who, with quite a number of others, was in the store. One of the party was holding a shotgun (not a musket) which was accidentally discharged, the whole charge entered St. Martins body. The muzzle was not over three feet from him — I think not over two. The wadding entered, was well as pieces of his clothing; his shirt took fire; he fell, as we supposed, dead."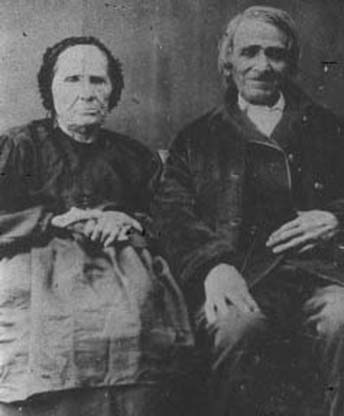 Alexis St. Martin with his wife in his later years
The Doctor was then called for right away and St. Martin was taken away, no one thought he would live very long. Beaumont began dressing the wound and to try to do everything in his power to make the patient as comfortable as possible. William leaves very detailed descriptions of the wound that entered from the back with duck shot and exited the front. The shot had fractured ribs, pushed out the lower part of his lung and stomach though the hole. The shot had also left a finger size whole in the stomach. Days and weeks went by, St. Martin kept improving. But as the doctor dressed and tried to close up the hole in the stomach, which would not heal, he was noticing how it would react to his touch and when it was digesting food. This was the beginning of a long obsession for Dr. Beaumont. Since Alexis St. Martin could no longer work as a voyageur, Beaumont hired him to work around his home and to continue doing medical experiments on his stomach in order to learn and record in detail for the first time just how the stomach works. He would actually tie bits of different foods on a string and insert them into the hole and observe what took place.
Over the course of years Dr. Beaumont moved from post to post, and would always try to keep St. Martin in his employ. He was breaking new ground in the world of medical science. There was so much to learn. But Alexis would get tired of all the moving and the sometimes painful experiments and go back to Canada, but would come back when in need of money. During some of his absences he became married, had a family and at one point signed on with the Hudson's Bay Company for a short period. Then in 1833, St. Martin returned to Canada due to the death of one of his children, this would be the last time that he and Dr. Beaumont would see each other. Beaumont would write to him with offers to come back, but nothing ever materialized between both parties. So the Doctor then began work on his book "Experiments and Observations on the Gastric Juice and the Physiology of Digestion."
The year 1834 had now brought William and his family to his last Army post, Jefferson Barracks, near St. Louis, Missouri. Here he set up a private medical practice and soon resigned from the military. 1836 brought to the doorstep of Dr. Beaumont a new patient to his care by the name of William "Bill" Sublette. Beaumont confined Bill to a rocking chair and performed a series of operations on him for "Fistula in Anno," a disease in the lower intestines. Sublette was "much pleased" with the doctor and was back on his feet again. He never did fully recover; his health grew worse each year. Upon his return from his "up the Green" with William Drummond Stewart, in 1843, Sublette asked the Dr. to give him a checkup. Dr. Beaumont not only seen that Bill's health was not getting better and in fact now had signs of tuberculosis. William Sublette would die while traveling during July 1845, in Pittsburg, Pennsylvania.
Dr. William Beaumont continued with his practice in St. Louis, and had become quite notable in the medical world with his discoveries. It was in March of 1853, while leaving a patients home he slipped on some ice, hitting his head in the fall. His condition failing, he passed away on April 25th. He is buried in Bellefontaine Cemetery in St. Louis. Today there are several hospitals and medical societies that bear his name. There is one Army medical center cafeteria that is named the "Saint Martin Dining Facility" as well.
What happened to Alexis St. Martin? Well his life was always a life of poverty, he mostly worked as a laborer, and "chopping wood by the cord" he would say. He took up drinking heavily, and lived until June of 1880. His family feared that his body would be used for further experiments, so his body was left out to decompose for four days, and then buried in a deep unmarked grave. It would not be until 1962 that the location of his grave was disclosed, in St. Thomas de Joliette, Canada, where it is now marked with a plaque in his honor.
Bibliography
Historic Lebanon, Highlights of an Historic Town

, by Rev. Robert Armstrong, D.D.

Lebanon, Three Centuries in a Connecticut Hilltop Town

, by George McLean Milne

Life and Letters of Dr. William Beaumont

, by Jesse Shire Myer and William Osler

Bill Sublette Mountain Man

, by John E. Sunder