Learning from a Snowshoe Failure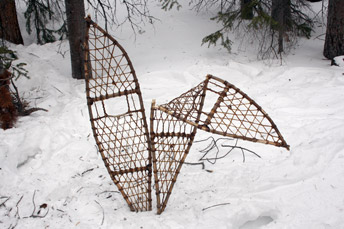 Success consists of going from failure to failure without loss of enthusiasm.

Winston Churchill
I have been saying I am going to make a pair of snowshoes every winter for the last 5 years, and this past year I finally decided I had put it off long enough. My goal was to put myself in the mindset of a Mountaineer, Zenas Leonard perhaps, and build some rackets out of materials that were readily available using basic tools such as a butcher knife and hatchet. There are a few different types appropriate for our time period such as the Ojibwe, Maine, or Bearpaw styles. I chose the Ojibwe which has both a pointed nose and tail, since it requires the least amount of shaping and bending for the frames.
With the plan in mind I headed down to the nearby creek to cut some long straight willows. I temporarily lashed them together to form the frames and let them sit for a couple of weeks as I prepared the elk rawhide and cut it into lacing. I practiced webbing with twine, and when I had the hang of it I started webbing them with the rawhide lacing. It took me two evenings to finish. I let them dry for a couple weeks, and then it was time to put them to the test during a three day snow camp Scott Walker and I had been planning.
I was happy with how they turned out. They were very lightweight and gave me great floatation on the snow. Unfortunately, two miles in, when gathering firewood at camp the first night, I landed a tip on a deadfall under the snow and snapped the shoe in half. It took me more than three days to build them, and only half a day to break them.
What a failure!
Fortunately I had the foresight to pack along another pair of snowshoes on my toboggan just in case. I had been hoping for the best, but expecting the worst. When they broke I was pretty bummed, but kept in good spirits because I learned a lot in the process. I learned the frames shrink considerably and loosen as they dry. I learned cutting 100+ feet of elk rawhide is a tedious chore. I learned I should cut my rawhide lacing even wider than I think. I learned how to weave the webbing. I learned willow is not the best choice for snowshoe frames. I learned that even though they broke, they still worked quite well while they lasted, and I was capable of building a pair of working snowshoes.
One of the things that I enjoy about "living history" is experimenting and trying new things. Unfortunately some of those things just don't work, but that just means there is a better chance for success next time. So don't let failure keep you from getting out there and trying something new.