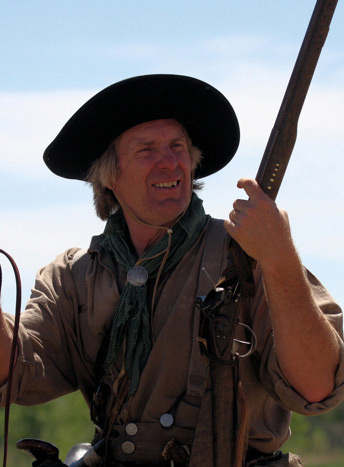 Riding into Bents Fort - June 2010
Name

Tom Karnuta

Location

Salida, CO

AMM

Bossloper #1981
Sponsored by Bill Gantic and Don Keas
Member since February 2008

Mr. Karnuta was born in Allegany County, Pennsylvania in the year 1810. Allegany County is located just east of Pittsburgh within a region collectively known as the "Forks". Along with the family farm Tom's father operated a small whiskey still that produced some of the finest Monongahela in the region. Along with many other neighbors, Tom's father was a member of the Mingo Creek Association (Gang) during the Whiskey Rebellion in 1792-94. Tom's mother was an educated woman and acted as the local school teacher.
Tom's grandfather came to this country as a soldier in the Royal American Regiment and served under General Forbes in 1758 during the campaign to remove the French from Fort Duquesne. After the removal of the French he was stationed at, and helped build, Fort Pitt. There he defended the Fort and public during Pontiac's Uprising in 1763.
Since Tom's mother was a teacher he was fortunate to gain a good foundation in reading, writing and numbers, a fact he typically keeps to himself. In addition he had the opportunity to learn to play the banjo, and along with local fiddlers played for many community dances. Like the other young men in Allegany County much of his time was spent hunting to provide meat for the table and listening to tales of early longhunters that hunted the woods in and around the Forks. Tom moved west to St. Louis in 1834 where he was able to secure a position as a hunter with the Bent St. Vrain Company. He worked at Fort William (Bent's Fort) from 1834 until the spring of 1836.
During a trip to Independence to deliver robes and other skins to the Bent St. Vrain warehouses he signed on with the American Fur Company's Rocky Mountain Outfit (RMO). As a company man with the RMO he was commissioned to provide meat to members of the caravan headed west to rendezvous with supplies and trade goods.
Currently Mr. Karnuta is splitting his seasons, hunting for the Bent St. Vrain Company during the busy robe seasons, and with the RMO when it is time to move men and trade goods to the mountains and back again.
With the end of the rendezvous system of transporting goods and furs west, Tom continued his work with the Bent St. Vrain Company through the late 1840's.