Review of Kannik's Korner Mens Accessories (Mittens)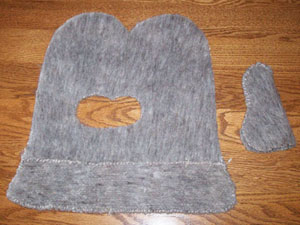 Mitten pieces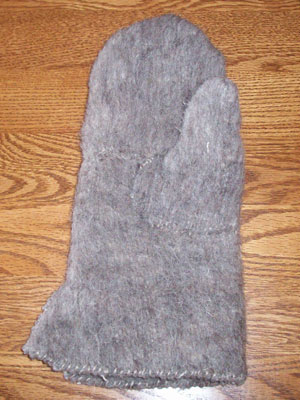 Finished mitten
Overview
The goal of this project was to create a pair of wool mittens out of blanket scraps. Overall it was successful and I would use this pattern again and recommend it to others. It is a great first time project.
I would give this pattern a rating of 4 out of 5. It is a good pattern, but it does not provide directions for how to determine the appropriate size to use so it requires a little bit of trial and error.
How It Went
The project went very well. The pattern is very simple and easy to figure out and I was able to make modifications fairly easily.
The Best and Worst of It
The best part of this project was the cost. You can buy 10 pounds of scrap blanket material from Northwest Traders for $15.00 ($1.50 per pound). That is enough to make 10 or more pairs of mittens.
Probably the worst part was figuring out what size to make since the directions were lacking for that.
Is it Recommended?
Absolutely. This is a very quick and easy project.
Hints and Notes
After using the mittens on a winter camp I found them to be quite comfortable and warm. One benefit of this pattern is the long cuff which covers more of the wrist.
I would suggest making the pattern quite a bit larger than you think you should be. Blanket material requires a fairly large seam allowance (around 1/2") to keep the stitches from pulling through. I used too small of a seam allowance and after removing my mittens several times the thumb started to pull away from body of the mitten due to the loose weave of the blanket material. Using a larger seam allowance would have fixed this problem.
I might also try doubling the length of the cuff and folding it over rather than cutting a separate piece of material to double the cuff.