Review of Past Patterns 1830's – 1840's Small-Fall Trowsers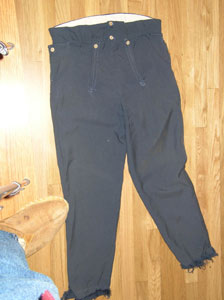 Overall view of pants, they're eight years
old and have had a hard life.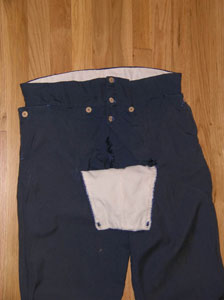 Detail of fall
Overview
The goal of this project was to create cloth small fall trousers using View A. Overall they came out okay with some modifications. I would not recommend it to others for a first project.
I would give this pattern a rating of 3 out of 5. It is very historically accurate and right in our period, but not a beginning project.
How It Went
Past Patterns is very good at making a pattern from a particular museum example or tailor's guide. These pants were worked up for the Lincoln Log Cabin State Historical Site living history program from historic examples in Illinois.
If research is Past Pattern's strong suit, directions are not. I had to read and reread every step many times before what they were telling me started to become clear. I found if I carefully did exactly what they told me everything worked, but sometimes it was hard to believe it would. On the bright side, having worked through this pattern I now understand how fall front pants go together and every other pair I make will be easier.
I worked in a tight weave twilled wool which had a tendency to ravel. For lining I used a medium weight cotton canvas. I hand stitched it in cotton thread. This was my first pair of pants and the pattern was a little complex for a first try. I didn't make a trial pair out of cheaper material and was unsure of how to modify the pattern to be a good fit.
When I finished the pants fit OK, although the legs were very loose. I ended up resewing a slight taper into the legs to get a better fit.
These trousers do not have the pleated "bubble" butt of the earlier breeches and pants of the 18th and early 19th century. They have no adjustment lacing on the back. This, and the high waist means you have to fit them more carefully than Colonial style breeches or early 19th century trousers. They are, however, a real 1830s style of pants, rather than a held-over earlier style.
The Best and Worst of It
The best of it was that the pattern was carefully researched from museum examples from the period I was interested in. This is a rare thing.
The worst of it was trying to figure out the directions. If Past Patterns would hire a technical writer to write clear directions, their patterns would be about the best.
Is it Recommended?
Not as a first project and not in expensive material until you work out the problems on cheaper fabric. My recommendation would be that a person start with the Past Patterns Mid Century Men's Drawers, View A, then do a Kannick's Korners First Quarter of the 19th Century Men's Shirt and then tackle the Small Falls.
Hints and Notes
Make it up with cheap material sewn on a sewing machine. Machine sewn and using safety pins instead of buttons you could have a rough pair put together in just a few hours. Get someone who's done a lot of sewing to help you make alterations on this first try. The main changes you'll have to make are to the height of the waist and the amount of taper in the legs. The height of the waist is not how wide the waist band is, but how high the waist band sits on your body. Pants waists in the 1820s and '30s sat higher than modern pants.
Transfer the changes you've made to the trial pair to your pattern so you don't have to reinvent the wheel with future pants. Keep notes on the project because it might be years before you make another pair.
Hand sewing a pair of these pants will be a major project and you don't want to spend weeks on a pair only to find out they don't fit. A machine sewn first try is well worth the extra time to make sure you'll like the finished pair of pants.
Lastly, This style of pants works best with braces, or a sash or belt around the waist. They sit so high on your body that if you don't have something to help them stay in place they will slip down. If you try to hold them up by making the waist tighter they will seek your waistline and will slip down as well. You just need to follow the style of the times and figure that you will have to keep them held up with something. Modern pants would have been considered lowriders during the rendezvous years — don't expect accurate 1830s pants to fit like your modern jeans.
I might consider fabric covered buttons for the fall and pockets, although old paintings show what look like black horn or dark metal. They ought to be four or five hole.
If you decide to add a waist adjustment, consider putting it below the waist band in the back. This is a detail I saw on a period illustration. If you put an adjustment at the waist band I think it would make the pants ride lower than would be comfortable.
Documentation Used
Miller paintings/drawings: Trapper in Starving Condition, Picketing the Horses, early versions of The Lost Greenhorn (for the blue color)
Peter Rindisbacher hunting scene
William Sydney Mount's paintings of harvesting crews, farmers, and reel dancers, circa 1835 – 1845
Alternatives
Kannik's Korners #4303 — See Review
Buckaroo Bobbins — Easier pattern, not as historically accurate but in the ball park.
Eagle's View and Tailor's Guide have breeches / pants patterns, but they are designed with more 18th century detailing than for the later rendezvous years.